Explore the unexplored wonders of stunning Biliran. Get a taste of the rural Philippines untouched by commercialism, fewer tourists, and the beauty of nature preserved in all its glory. Take a hike and see the amazing rice terraces, enjoy the coast's offering paradise-like beaches, get relief from your ailments soaking in the warm and therapeutic hot springs, an island dotted with waterfalls.
Pack your bags and include this list of sights to see for a memorable experience.
Sambawan Island in Maripipi
Sambawan Island is a paradise in Biliran and the most visited place by tourists. It has two islets linked by boulders and transforms into three islets during high tide. Beach lovers will love the crystalline waters thriving with aquatic life it is a marine sanctuary and a popular dive site.  Walk on powdery white sand surrounded by wonderfully beautiful trees.
A watchtower stands on the peak and serves as a view deck for tourists. Catch a breathtaking site of the entire island witness the stunning sunrise and the magnificent sunset.
Tingkasan Island
Tingkasan Island has its mysterious bat-cave making it a great destination for thrill-seekers. Enjoy swimming and getting lots of UV rays on the empty white sand beach. The waters around the island have abundant shellfish and great for diving and spearfishing.
Dalutan Island
Dalutan Island is a privately owned land and uninhabited; it can be accessed by a 15-minute boat ride from the nearby town of Almeria. There are no modern amenities visitors are advised to bring their own food and water.
Overhanging trees of coconut, ipil-ipil, and nipa palms provide much-needed shade from the scorching sun. Beach exploration and snorkeling the beautiful seascape are among the favorites of tourists. The adventurous do kayaking to discover the wonders of the island. Mountain climbers will appreciate the rock formations and cliff diving afterward.
Higatangan Island
Higatangan Island is a simple fishing village blessed with a sandbar speckled with gargantuan clam shells and other unusual seashells swished by the waters of the sea. Tourists visit the place for its fine-grained sand, azure waters, rock formations, and the freshest catch from the sea.
Caucab Rice Terraces in Almeria
In the mountainous and hilly areas of Biliran, you can find a breathtaking view of lush vegetation and man-made agricultural rice terraces. Caucab rice terraces consist of rows of rice terraces that rose above the sea level. It takes hours of travel to reach the place but it's worth the trip because of its extensive and gently sloping landscape. Other rice terraces are located in Iyusan, Sampao, and Salangi.
Canaan Hill Farms and Honey Garden
Canaan Hill Farms and Honey Garden is a six-hectare garden that promotes wellness by producing organic food through the natural way of farming. The views and the manicured orchard gives a picturesque landscape good for Instagram or selfies.
Feast on food prepared the organic way like blue rice with flower petals and vegetables with gumamela, hibiscus, buds. Gulp concocted drinks made from guyabano and turmeric mix also try the lemongrass with a ginger blend.
A heads up for visitors, killing of insects and animals in the farm are prohibited as well as wearing short shorts and sleeveless tops for female.
Ulan-Ulan Falls in Caibiran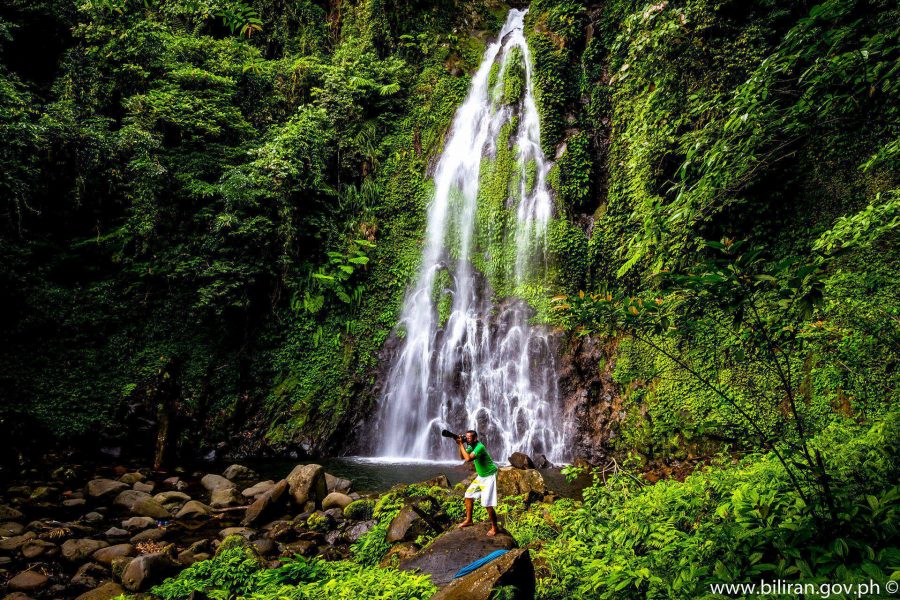 Ulan-ulan falls Is just one of the over 20 waterfalls in Biliran; what separates it from the others is it remains undeveloped. The trail or basin has not been changed everything crafted by nature remains intact. A summer wonderland with cascading waters surrounded by greenery, so peaceful only the rush of the water makes the noise.
A 30-minute trek to the place is worth the effort.
Bagongbong Falls
A visitor needs to hike 1 hour and 30 minutes to reach the place, you need to hire a guide to trek you through the thick jungle. Along the way, you'll experience astounding views of the villages below and the Inayusan rice terraces from a distance. Expect to see birds and monkeys perched on treetops. Bagongbong is a breathtaking 30-foot waterfall with a pool beneath good for bathing, and picnic.
Mainit Hot Springs in Calibiran
Biliran is an island teeming with volcanoes no wonder numerous hot springs dot the area. One of the sought after swimming spots by tourists is the Mainit Hot Springs in Calibiran where they can take a relaxing dip and relieve muscle pain. The presence of medicinal sulphur in the water alleviates rheumatism, skin allergy, and arthritis.
Sources:
https://www.vigattintourism.com/tourism/articles/5-Tourist-Attractions-in-Biliran-that-are-worth-visiting
http://leytetravel.com/biliran.html
---