Caramel is a sweet, confectionery ingredient made primarily from sugar and is a common part of most traditional Filipino desserts. Combining caramel with salt is a foreign concept but has grown to be a popular flavour for cakes or ice cream here in Philippines. Although it is not a new food concept here, real French salted caramel is perhaps not yet so popular in local mainstream food trends.
Marriage of Sweet and Salty
What makes French salted caramel different from other desserts with caramel? Does it have potential to make it big in mainstream food trends in Metro Manila? Let us know more about the product and its origin. Here is an exclusive interview with Mr Pierre Padilla, a young Frenchman who travelled here in the Philippines to share his unique, specialty "French Salted Caramel Spread".
If you are unfamiliar with French salted caramel, it has a unique flavour with milder level of sweetness compared with caramel in traditional Filipino desserts which has a very sweet formulation. Perhaps it can be a new food trend here. Among many Filipinos in the metropolis who are familiar with authentic French food, this could be a reminder of their past vacations in France.
Traveller From France
Pierre Padilla is a Frenchman from Brittany, France. Brittany is a region that is located west of France, bordering the Normandy and Pays de la Loire. On its north is the English Channel and on the south is the Bay of Biscay.
First of all, why did he choose the Philippines? "I wanted to bring the taste of my region in Brittany to Filipinos," said Padilla. He is referring to his own signature recipe for "French Salted Caramel Spread" which he sells in convenient jars.
What is special about Pierre's "French Salted Caramel Spread"? He first describes it having a unique taste. "It is made by hand, cooked in small batches with all natural ingredients." He also describes his product as "incredibly moreish" or something that makes one crave for more. "You may eat it straight from the jar or spread on bread, pancakes, ice cream or crepe," said Padilla.
According to Pierre, "[French salted caramel] is something that the Filipino does not know, but it is a flavor that is [known] really well in France. It is working in France. I also want to give that taste to the Filipino."
Culinary Adventure
Padilla was 16 years old when he studied a culinary in La Rochelle, France. From 2010 – 2011, he worked as an apprentice at Le Comptoir des Voyages, La Rochelle. Then in 2012, he briefly worked as Commis de cuisine at La Barbe Restaurant Cuisine de France, in Reigate, Surrey (a town in England made popular in Harry Potter novels). On the same year, Padilla worked as Commis Pastry Chef at Mandarin Oriental Hyde Park in London, United Kingdom. By September of 2013, he worked as Production Manager at The Ice Cream Union, London.
French Connection
He narrates that during his years in La Rochelle, he worked in a restaurant where he learned how a small ingredient can produce a dish that is full of flavour. The concept of the restaurant was changing the menu every two month or presenting a different menu from a different country. "The interesting thing is, you have to research what other people eat in other countries and bring it to a nice dish."
London Ice Cream Training
Padilla's further work experience in London at "The Ice Cream Union" made him familiar with various operation in running the business. He met Filipino co-workers in London. He was later interested to visit the Philippines someday. 
Life In the Philippines
Padilla first arrived here for a vacation in Palawan and later on settled in Davao in Mindanao. He first launched his signature product, "French Salted Caramel Spread" in Davao. Eventually, he decided to expand his business and to reach more people here in Metro Manila.
What does he like about the Philippines? "I love the people and sharing the simple moments with a person [whom] they don't know, like a foreigner. I like the food also. My favourite dish is chicken adobo. I've been to Davao, then I came to El Nido, Palawan. It is really, really nice and such a beautiful place with lots of spots. The tour was really nice," said Padilla.
Transportation Blues
Padilla also shared some of the challenges and difficulties he experienced here in Metro Manila. "It is hard to understand how it works with the transportation. You've got the MRT, bus, jeepney and UV (utility van)." He states that there are many options that can be confusing to first-timers here. He shares that he got lost once. Padilla mentioned that compared with France, it is predictable when the bus or train will arrive and where the destination will be.
"The taxi ride here is very expensive, so [one time] I had to take the bus because the MRT was already closed late at night." Padilla was also surprised how buses and utility vans are so much crowded with passengers. "In  France or in London, you won't have people standing up in the bus, unlike in the Philippines. Also here, a utility van has 15-20 people in one vehicle."
Before he arrived here, Padilla spent the past four years travelling to Ireland, Amsterdam, and UK among others.
He arrived here in Metro Manila last December 2018. On his first few weeks here, Padilla shared his expertise with ice cream with the local company "Carmen's Best Ice Cream".
Summer Tip!
Well, summertime is here. Do check out Carmen's Best Ice Cream's newly launched flavour, the Honeycomb Crunch, which Padilla helped in its formulation.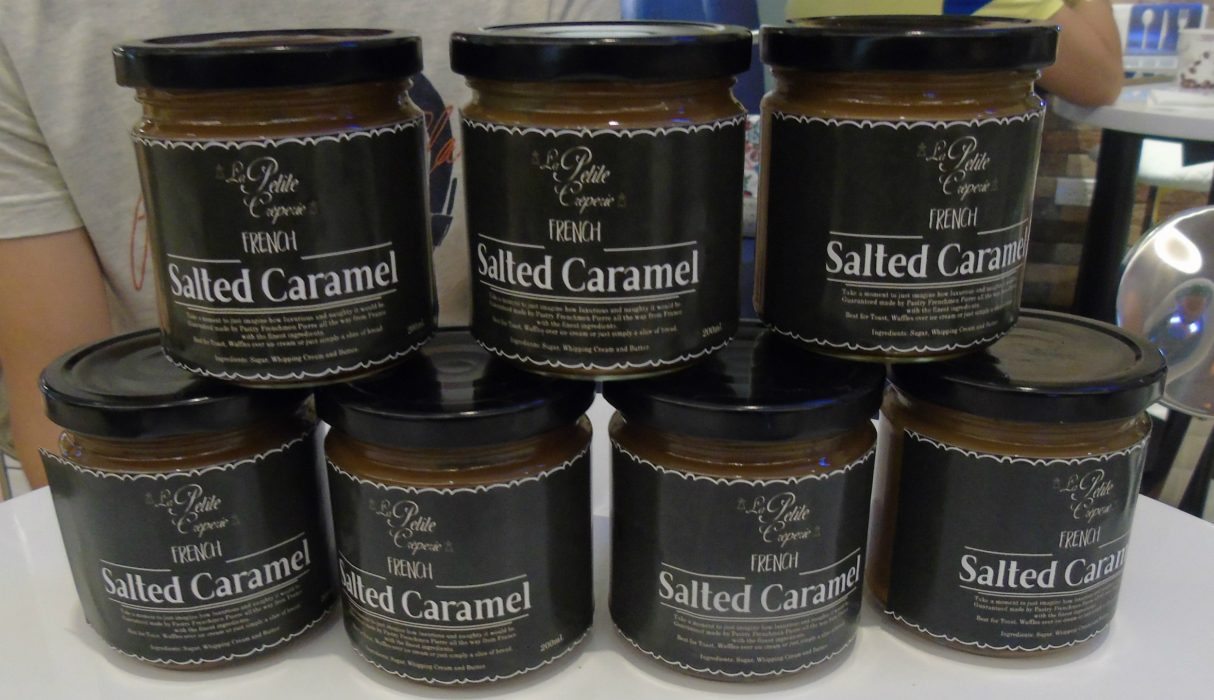 To know more about "French Salted Caramel Spread", please visit https://www.facebook.com/lapetitecreperieph/ or @lapetitecreperieph on Instagram. You may also find French Salted Caramel Sauce at Shopee.ph and Meals.ph.
---