"Food is our common ground, a universal experience." – James Beard
The origins of Filipino Food came from the Malayo-Polynesians who were mainly responsible for the most important ingredient which is rice. When they settled in the Philippines around 3,200 BC, they introduced farming and various cooking methods such as steaming, boiling and roasting over a fire. Filipino dishes are very complex and are heavily influenced by both Asian and Western countries but Filipinos have learned to create these dishes into their own liking.
Because of its complexity, Filipino dishes are known to be rich in flavor and are perfectly paired with hot, steamed rice. With influences coming from all around the world, tourists both foreign and local enjoy the amazing varieties that can be found in a typical eatery (cheap/affordable place to eat) or restaurant
The Philippines is home to a hospitable community, which is one of the outstanding characteristics of its citizens. So every time there are guests, home cooked specialties are always served fresh and hot. People in the Philippines are also fond of field trips, trekking and / or overnight stays that are far from home over the weekends. You'll be amazed by the awesome selection of food varieties below that should be known because you can cook these everywhere.
Adobo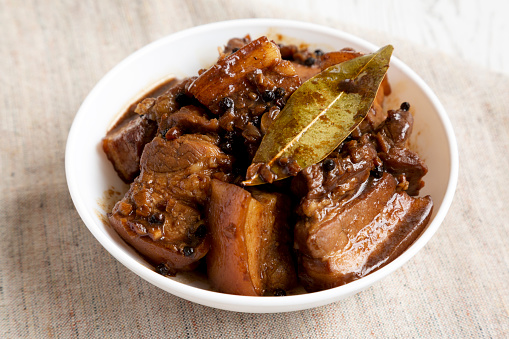 This is the most famous Filipino comfort food that no one can resist. Adobo is actually a traditional technique of cooking a certain dish. Chicken, pork, seafood or vegetables can be used to create this dish. The mains are marinated in vinegar, soy sauce and garlic which is then simmered until the broth has already turned into a delicious mix of all the ingredients. This dish is so popular that many Filipinos consider it to be the national dish of the Philippines and it is also popular among tourists.
Kilawin
This is a native Filipino dish famous all around the country and is believed to have been around for more than 1,000 years. This cuisine is prepared by slicing raw meat into small cubes or pieces mixed with vinegar (native vinegar is the perfect choice). The vinegar's acidity basically "cooks" the meat, added with calamansi, garlic, ginger, pepper, salt and chili. It is important to choose fresh ingredients as it would greatly affect the overall flavor of the dish. Some even add coconut milk and it tastes heavenly. This is a great appetizer!
Lechon
Although the lechon did not come originally from the Philippines, it has been considered as one of the most celebrated dish in the country and every celebration will not be complete without it. People's top of mind when lechon is mentioned is roasted pig but people should know that the Filipinos are also fond of the lechon versions of chicken and beef. It is a great dish that will come in handy especially when there are many mouths to feed. Leftovers can also be turned into other dishes such as paksiw and sisig which are equally tasty but still has its own unique taste.
Pancit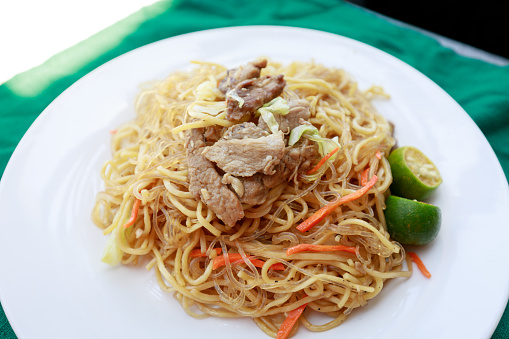 This dish is as important to each Filipino celebrations as rice. A traditional Filipino celebration will not be complete without this dish. The origin of Pancit may have been from the early Chinese settlers in the Philippines but Filipinos have come a long way in making pancit their very own Filipino identity. There are so many local versions of pancit all around the country which are always in-demand wherever and whatever the celebrations are. You can choose from pancit canton, bihon guisado, sotanghon guisado, luglog, habhab, they even name some as birthday pancit!
The dish is made primarily of noodles or rice noodles and depending on the type of pancit, it is mixed with pork, chicken or seafood. Seasoned and flavored with garlic, onion, soy sauce, oyster sauce and / or fish sauce and cabbages, carrots and scallions are also added. This dish is a great life saver as it can be eaten as a snack, and served as either a main dish or a side dish. You can never go wrong with pancit!
Street Food
Street foods in the Philippines are just as unique as its neighboring Asian countries. There is a wide variety of choices that may look exotic to a foreign tourist. Street food vendors before used to sell premium cuts of chicken and pork barbecue but when the economic crisis happened way back 1970's, the usually discarded parts (innards of pig and chicken) have become valuable all of a sudden. The most popular street comfort food for Filipinos is "isaw" – chicken intestines drenched in a barbecue sauce made of ketchup, tomato paste and vinegar. It is best eaten after dipped in a flavorful dipping sauce which is a mixture of soy sauce and vinegar topped with calamansi and chili.
Other skewered street foods are adidas (chicken feet) and helmet (chicken heads), pork and chicken liver, heart, and chicken skin. There are also skewered tempura, kwek-kwek and hotdogs. Filipinos also go for skewered bananas and sweet potatoes for snacks. These street foods are surprisingly easy to replicate anywhere you go and easy to prepare!
Filipino Foods are Important in their Culture
Filipino dishes were influenced by the different countries around the world with a rich origin and evolution history. But because of the Filipinos' love for food, these foreign influences were whole-heartedly accepted and have been made their own. Filipinos are so attached to the food that they make, they even have different meanings behind each dish. You can check Popular Filipino Foods with Hidden Meanings for Special Occasions for a longer list of delicious pinoy foods with beautiful meanings. But if you're more on the sweet side, then get to know the Filipino Desserts That are Sure to Satisfy your Sweet Tooth.
Over the years, the food culture in the Philippines has continued to grow and evolve, adding more food choices to the already long list of great food in the country. So whenever you are in the Philippines, make sure to learn the five must know dishes in the Philippines!
---