The Philippines has an abundant and cheap supply of sugar, making most Filipinos having a sweet tooth. The Filipino term for dessert is "pang-himagas", but these Filipino sweet desserts were traditionally eaten as a mid-afternoon snack rather than after lunch or dinner. However, modern times have now normalized these desserts to be eaten after every meal and are almost always present in different occasions.
In the Philippines, it is normal to drink soda with food, add sugar to milk, drink sweetened brewed or black coffee and add sugar to any regular tea. The country just loves sugar so much. So if you love sweets, you should check out some of the most famous Filipino desserts that will surely be added to your favorites list.
Some of the Most Famous Filipino Desserts
1. Leche Flan
This is a dessert rich in custard with a soft layer of caramel on top and is the Filipino version of crème caramel. The traditional Filipino mold for this dessert is in the shape of an oval, metal baking pan called llanera. Creating this dish needs perfect balance of the ingredients, otherwise, the shape won't hold and the taste won't be as good as it should be. So eating one is like a taste of perfection!
2. Palitaw
This literally means "to float or to rise". This Filipino dessert is made with glutinous rice flour, grated coconut, sesame seeds and sugar! It is a famous Filipino delicacy known for being soft, chewy and gluten-free and can be eaten as a snack or dessert. This is usually made in small pieces or servings which makes people ask for more.
3. Minatamis
Another famous Filipino dessert is the minatamis, made with saba bananas cooked in sweet syrup consisting of muscovado sugar and water. Others tweak the flavors according to their preference such as adding pandan leaf or vanilla extract. Salt is also added in order to balance the sweetness. The delicious flavor of the banana mixes well with the syrup which makes it a favorite among kids and adults alike.
4. Biko
This one is mostly eaten as a snack but is one of the most enjoyed desserts in the country. Biko is a sweet rice cake made of glutinous rice, brown sugar and coconut milk. It is usually topped with latik and is widely enjoyed by both children and adults. This is also a staple food for different occasions in the Philippines.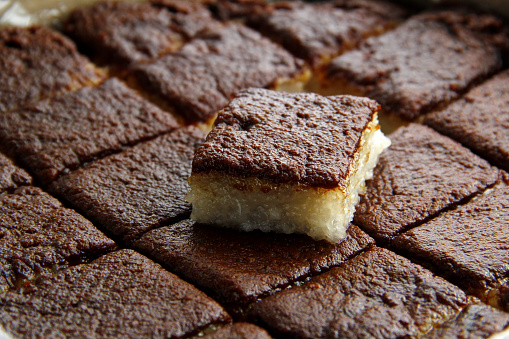 5. Maja Blanca
This one is a beautiful white dessert primarily made from coconut milk. Some call it coconut pudding as it is rich in coconut flavor. This luscious dessert is easy to make and the ingredients are also very common. With the addition of whole sweet kernel corns and condensed milk, the flavor becomes richer and the texture becomes creamier. This is a staple food for almost all occasions in the Philippines.
6. Sapin-sapin
This colorful and festive dish requires longer time to prepare compared to other desserts. This is made with glutinous rice dough, coconut milk, sugar and condensed milk sprinkled with latik (caramelized coconut cream) or toasted dessicated coconut flakes. Flavorings are also added such as ube halaya (another famous dessert) and jackfruit. Purple, yellow and white makes up the playful look. Sapin-sapin has a dense, chewy pudding-like texture which is great for social gatherings.
7. Mais Con Yelo
This is a cold, sweet and refreshing dessert/snack in the Philippines made with sweet corn, crushed/shaved ice, milk and sugar. Toppings are also available, adding more flavors to the dessert which are rice krispies, crushed corn flakes and ice cream. Its sweet, milky texture satisfies every sweet tooth.
8. Buko Pandan
This is a famous crowd favorite dessert in the Philippines. Buko pandan is a sweet and refreshing dessert made with coconut, pandan flavored jelly or gulaman and sweetened cream. It is easy to prepare and easily sells out once served in gatherings. Pandan is fragrant and its flavor have hints of rose, almond, and vanilla with a twist of coconut. Truly has a unique, tropical taste to it that makes people want to ask for more.
9. Taho
This is a Filipino snack food that is also widely consumed as a breakfast. Taho is made of fresh soft or silken tofu, sago pearls and arnibal. This has become a staple food and comfort food for people all around the country. Taho peddlers also roam around the streets as early as before the sun rises. You can really tell that pinoys love it the sweeter it gets as they prefer their taho to be topped with condensed milk.
10. Halo-halo
This one is definitely one of the crowd-favorites in the Philippines especially during summer when temperatures rise. Tourists, local and foreign alike love this dessert. Its name literally translates to "mix-mix" which is the ideal way to enjoy this delightful dessert. Halo-halo is made up of sweetened saba banana, sweet potato, ube jam, coconut, nata de coco, beans, jelly, ube ice cream, leche flan, jackfruit, pinipig, mixed with evaporated milk all on top of crushed ice. It is indeed the best sweet treat and deserves its praises from all around the world.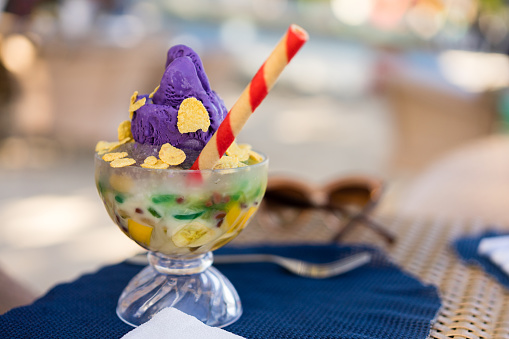 Experience the Sweetness of the Philippines
It is undeniable that the Philippines has one of the most delectable dessert varieties in the world. So if you happen to be in the Philippines, do not hesitate to ask where you can find these lovely desserts. You can even ask for any local desserts available since different areas offer unique, sumptuous dessert options.
The country is made up of thousands of different islands which makes it highly likely to have each community make up their own unique dessert varieties. Your Pinoy experience or journey will not be complete unless you indulge yourself with these sweet treats. One common trait of the Filipinos is the love of sweets, whether it be for breakfast, snacks or desserts.
---
---