A fun time in the Philippines will not be complete without sampling the delectable Filipino street foods. Immerse in Filipino culture, learn why it is a way of life for people in this part of the world.
Get hold of these native delicacies that you'll find throughout the country. Hawkers sell them in stationary stalls or through mobile ways by pushcarts, bicycle or carrying food containers.
A reminder, you have to sacrifice glamour when eating Filipino street foods.
Price is low compared to hole-in-the-walls, cleanliness is a bit off but it makes up in taste. If you are up to the challenge, try these Filipino street foods that will blow you away.
Banana Cue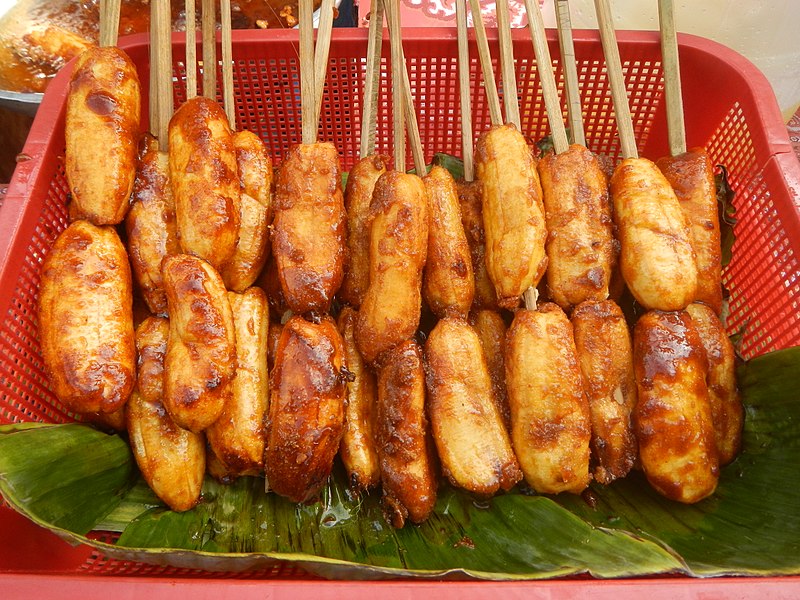 Local bananas, Saba, are coated with brown sugar followed by deep frying. Once, the fruit is completely caramelized they take it out of the cauldron. They skewer this into a barbecue stick in groups of 2 or 3 depending on the size of the banana. The first bite leads to another until there's none. It is very hard to resist if the banana is ripe which adds sweetness and softness, easy to chew.
Most of the vendors have an arsenal of goodies for food junkies. It is a one-stop shop for other yummy goodies…
Get ready for Turon, Saba draped in lumpia, spring roll, wrapper and with a coating of brown sugar. It comes with langka, jackfruit, and deep fried until it is golden brown. A single wrapper comes with one saba sliced in half. One serving will do unless you crave for more.
Camote cue. A good alternative to the banana cue, the preparation and cooking are the same but they use a different fruit, the sweet potato.
Camote fritters. They cut the sweet potatoes like French fries and undergo the same process as the camote cue.
Kakanin
A Filipino term representing a variety of yummy rice recipes mixed with local ingredients.
Puto. Place the rice cake mixture in molds and steam, it comes in different sizes and flavors. Top this off with cheese or salted duck eggs or coconut gratings makes it more appetizing. Puto pao is a variant to the ordinary puto with sautée pork as the stuffing.
Suman. They wrap the glutinous rice in coconut leaves and steaming follows. This goes well with coffee, tea or hot cocoa, dip it in sugar to balance the bland flavor.
Bibingka. A mixture of glutinous rice, egg yolks, red eggs and goat cheese grilled in clay pots on top and under. Once cooked, they spread butter with a sprinkling of sugar and topping this with coconut gratings. Pair this with salabat, ginger tea, and you'll crave for more.
Puto bumbong. An heirloom Filipino delicacy where there is no substitute for the ingredients. Drench pinurutong, glutinous rice, in salt water and leave it to dry overnight. Bamboo tubes are filled with the mixture and steam it. Steam rises out from the tubes when it is good to go. Top this with margarine. coconut shredding, and sugar.
Palitaw. Or sweet rice cake, this is sticky rice that is molded into circular flat shapes and dropped in boiling water. When it is ready it rises, gather and roll these into a mixture of sesame seed, sugar, and coconut gratings. Eat it while it's still hot.
Sapin sapin. A multilayer rice cake made from glutinous rice. Each color has a different taste like white taste like vanilla, maroon taste like yam, and the red color taste like banana. Top it with budbod, roast coconut shredding, for extra flavor.
Biko. A fusion of coconut milk, brown sugar, and glutinous rice with a topping of thick sweetened liquids made of reduce coconut milk and sugar. Others place mung, monggo, or red beans on top.
Maja blanca. Or coconut pudding, is made of coconut milk, cornstarch, and sugar. Some add sweet corn kernels or nuts for a twist to the delicacy.
Sorbetes
Sorbetes, dirty ice creams, is sold by a sorbetero, street hawker, pushing a vibrantly decorated wooden cart. This goes well with matamis na apa, sweet sugar cones, or as stuffing in bread rolls. Sorbetes comes in a variety of flavors from the local natural fruits like coconut, mango, yam, jackfruit, strawberry, avocado and an imitation of commercial ice creams such as chocolate, vanilla, and cheese.
Taho
Taho, is made of tofu that blends with arnibal, sweetener, and sago pearls. A magtataho, vendor, peddles his wares by carrying 2 aluminum buckets that hang from the ends of carrying post. You won't miss him because he shouts "TAAHOOOO" when he goes around. Better take it in the morning while it's still hot, it spoils in the afternoon or when it is cold.
Filipino street foods are addictive and your taste buds will never be the same, each has its own distinct flavor.
---