No word can perfectly describe the humble beauty that the province of Antique offers. Any traveler will be thrilled with the many panoramic views and natural wonders waiting to be discovered.
You'll be amazed at the lush mountain scenery gifted with numerous floras and faunas, and rare plants that you have never seen before. Waterfalls feature unique red-tinted water cascades. Divers will rave about the natural coves, powdery white sand, and a stunning Seaworld.
Here are a few reasons why you should place Antique in your travel list. Try not to fall for it yet once you experience doing it you'll be blown away.
A Hot Bath in a Kawa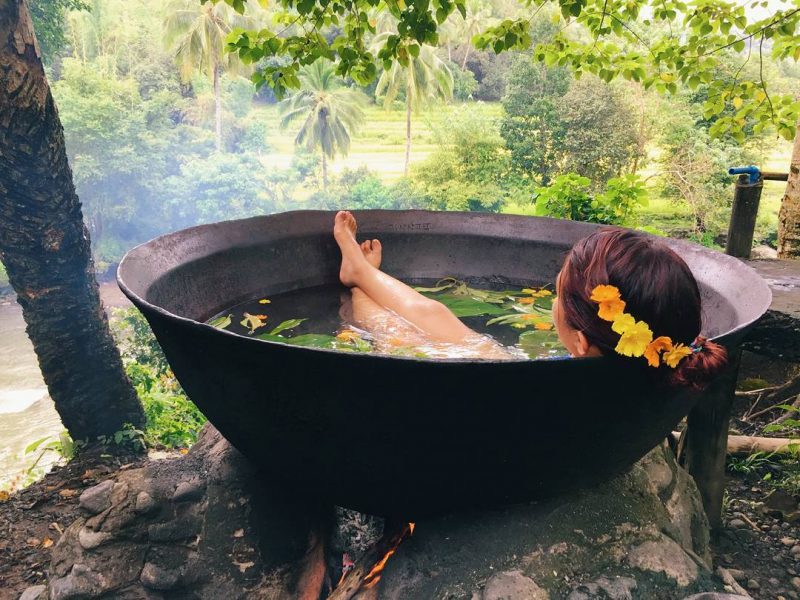 Kawa, huge cauldrons, is used for cooking food in this case humans take its place, just joking. This is big enough to fit a person some leaves and sweet-scented flowers are added to make you smell nice.  Fire is controlled to keep the water at a moderate temperature, a very relaxing experience.
I wonder how I'll taste with all that cholesterol.
Explore Malalison Island
Also called Mararison can be reached by boat. Visitors are serenaded by a children choir with popular and local songs setting the right tone for the stay.
Beach lovers will have a heyday walking on powdery white sands while having lots of UV rays. Cool down your body in the azure waters and explore an underworld playground teeming with marine life. A short trek up a hill provides killer views of the sunrise and sunset, coastline, and pitcher plants lining the trail.
A Fish Spa at Tibiao
This is not your regular foot spa there will be shrieks from other guests but don't be dismayed. It might be their first experience with fish gnawing the grime in their feet and nails. The fishes are good at their work; they nibble and nibble their stomachs don't get full.
Picking Rambutan at Nica Farm
Don't be frightened by its looks it's hairy outside with rough skin once it's open you can taste the sweetness of the fruit flesh which is like lychee. It comes in different varieties and colors, the green ones are much sweeter than the others.
Nica Farm is a private fruit orchard but they open the gates to visitors on weekends. Other picks are pomelo, lanzones, bananas, durians, and mangosteen. The fruits are weighed prices are lower than those at the market.
Kite-Surfing in Seco Island
A 1.5 kilometer stretch of white sand and shallow sea with a bit of vegetation, no infrastructures, and no inhabitants. Strong winds are right for kite-surfing that can elevate you to 150 feet and sandbanks are perfect for jumping and aerial tricks on surfboards.
See the Amazing Rafflesia in San Remigio
The plant has no stems, leaves, and roots the only part visible is the five-petalled flower. The flower is over 100 centimeters (39 inches) in diameter and weighs 10 kilograms (22 pounds) in full growth. The world's heaviest flower.
The flower smells and looks like rotten flesh, hence the local name corpse or meat flower. It attracts flies that transport pollen from male to female plant.
Take a Dip at Sira-an Hot Springs
The hot spring pool of Sira-an is atop a rugged outcropping with a view of the ocean. Take a dip in sulfuric waters which is therapeutic for the body and take in the beautiful view of the blue sea and the bright and clear sky.
Skirt your way to the edge of the outcropping and you'll be in the company of different shapes and colors of rocks and more breathtaking angles of the ocean.
Discover the Hidden Antique Rice Terraces
Rice terraces are not found only in Banaue, Antique has their own version of this man-made wonder. Hidden by rolling hills and mountain peaks, in-between 2 amazing waterfalls lays a cluster of rice terraces preserved by the Iraynon Bukidnon tribe for centuries.
It takes 4 to 5 hours of clambering mountainous trails but the breathtaking view, laidback atmosphere, and friendly locals are worth the trip.
Get Your Hands Dirty with Tibiao Clay Pottery
Clay pots are nice pieces of art crafted by hand, experience the thrill of making one in Barangay Bandoja in Tibiao.
Fret not if you have clumsy hands there will be a demonstration and assistance of a skilled craftsman. You might not like what you did, but you'll certainly earn the admiration of the locals for giving your best effort.
Sources:
https://www.lakadpilipinas.com/2014/06/antique-travel-guide-itinerary.html
https://girlunspotted.com/2018/03/13/30-most-awesome-things-to-do-in-antique-philippines/
---