Looking to tie the knot in sunny Philippines? Congratulations – you're about to experience one heck of a feast. Are you up to buying dinner for over 200 guests?
But first, there's a small obstacle course to get through before getting legitimately hitched in this country.
The Philippines is one of a handful of countries that does not recognize divorce, which is why we take getting married very seriously, as evidenced by the myriad of paperwork you need to put together in order for your ceremony to be recognized by law.
Since marriage laws differ per nation, expats are advised to educate themselves in the laws of the country where they hold citizenship. You can do this by heading to your country's embassy or consulate office.
Who can get married here
There are certain conditions that require extra documentation before getting legally married here in the Philippines. The marrying parties must be:
Of opposite genders

aged 18+ 
If you or your intended are between the ages of 18-21, you're required to get consent from your parents
If you or your intended is between the ages of 21-25, you're required to get advice from your parents
Are not blood-related up to the fourth degree

Not currently married
Personal Documents to Prepare
Alright! Now that you qualify for a legal marriage, your next task is getting your marriage license. To be issued this, you and your intended need to put together these documents:
1) Personal Identification
Your birth certificate and passport with copies of the info page. Bring along 1 x 1 ID pictures taken within the past six months.
For the Filipino citizen, you can use your baptismal certificate in place of the birth certificate if you don't have it. Also, include your Community Tax Certificate or cedula.
2) Proof of Singlehood
a) Certificate of Legal Capacity to Contract Marriage or Affidavit (for the foreign partner)
This is proof that you're single. You can get this in your home country's embassy or consulate. Personally go there and bring along your personal identification documents and money for the fees.
If your home country doesn't have this, you can write an affidavit affirming your singleness and that you're free to marry in your embassy. Make sure than a consular officer witnesses and notarizes this. Don't forget to also ask for a "Statement of No Objection" – this serves as the "thumbs up" signal from your country to the Philippine government that yes, you are allowed to get married here.
b) Certificate of No Marriage (CENOMAR) for the Filipino partner
You can easily get this through the NSO (now PSA) website and delivered right to your chosen address.
c) Witness Statements for the Filipino Partner
You have to acquire duly notarized witness statements from two people who do not have blood or other familial ties with the Filipino partner to confirm his or her single status.
d) Divorce/Annulment/Death Certificate of spouse from a previous marriage
If you have a history of marriage, legal proof of the severance of those ties are needed. Since divorce is not recognized in the Philippines, your Filipino partner can only submit either a Death Certificate or Certificate of Annulment if it applies.
3) Parental Permission
As mentioned in the previous section, if either you or your intended is aged 18 to 25, you'll need consent or advice in document form, with the parent's or legal guardian's signature. However, should the parents be present at the ceremony to approve of the union, this can be waived.
4) Marriage Seminar
You can't get out of going to this seminar. You have to submit a Certificate of Family Planning and Marriage Counseling before the local registrar can issue you a marriage license.
Securing a Marriage License
Your marriage license ensures that your marriage is recognized by law. Without this, you can throw an ultra-extravagant ceremony with hundreds of witnesses but not legally Mr. & Mrs. at the end.
Getting a marriage license can be time and energy-consuming, but once you've put together the required documents, it's a straightforward process.
First: Head to the Local Civil Registrar where either party usually reside with all your prepared documents. You can find this office in your local city or town hall. You and your intended need to both be present when you lodge your application. Fill out four (4) copies of the application for government filing purposes. The application costs ₱120.
Second: Undergo the marriage seminar while waiting and get the necessary certificate. You can register for this at the city or town hall's health department. You'll receive a receipt to claim your marriage license after undergoing the sessions. Don't misplace it!
Third: Wait 10 working days while the registrar puts up your application notice. This is to give time for objections (should there be any) to be lodged. If you or your intended are between 21 to 25 years old and the parental advice is against your marriage, you will have to wait 3 months instead.
Fourth: Claim your marriage license! Remember that this is only valid for 120 days so your ceremony should fall within that time period.
Sound the Wedding Bells!
Congratulations, you've secured your marriage license! You've planned a wonderful ceremony and said your I do's. Are you officially married now?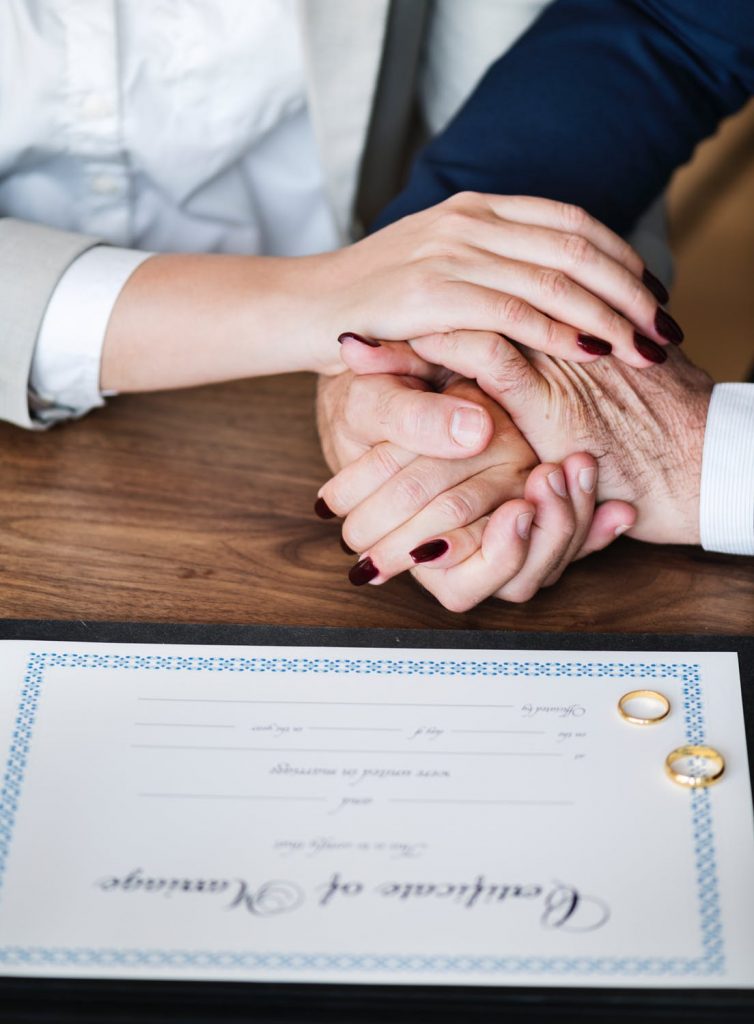 Before you whisk each other off into the sunset, don't forget to sign your marriage certificate! You, your new bride or groom, the officiant (a priest, minister, imam, rabbi, judge, or mayor), and your witnesses all need to have your signatures there.
You need to send these to the same local registrar where you got your marriage license. After they register this offically, you can get certified true copies from the Philippine Statistics Authority (formerly NSO) to prove that you are truly, officially, legally husband and wife.
Sources:
Philippine Statistics Authority – Registration for Application of Marriage License
AbogadoMo.com – Foreigners and Marriage in the Philippines
Filipiknow.net – How to Get Married in the Philippines – An Ultimate Guide
Tagaytay Weddings – How to Get Married in the Philippines (for foreigners)
---