There's pretty much no excuse anymore when it comes to working out. Metro Manila and the rest of the Philippines are dotted with gyms and fitness centers, some of which, like Anytime Fitness, are open 24/7.
But what keeps most people away from those places is probably boredom. While being consistent will help you reach your goal, may it be fitness-related or otherwise, sometimes variety is necessary to keep yourself interested and motivated.
Gyms don't really offer much variety, although Fitness First does offer a lot of group classes, but not much flexibility when it comes to pricing. Enter these two new fitness class apps that offer a different kind of membership system.
Guavapass and KFit allow you to book individual or unlimited classes in any specialty studio per month depending on your membership package. Whether you like yoga, boxing, spinning, Zumba, or even archery, you'll find your favorite workout here.
Let's check out how each one works.
Guavapass is an app made by a Singaporean company. They have studio partners all over Asia, namely in Abu Dhabi, Bahrain, Bangkok, Beijing, Dubai, Hong Kong, Jakarta, Kuala Lumpur, Manila, Mumbai, and Shanghai.
This app focuses on all kinds of workouts, may it be sports, martial arts, dance, calisthenics, and other forms of physical activity. From roughly a dozen exercises, Guavapass has steadily added onto its list to offer even specialty classes like mom and baby exercises and branded events.
Guavapass Partner Studios in the Philippines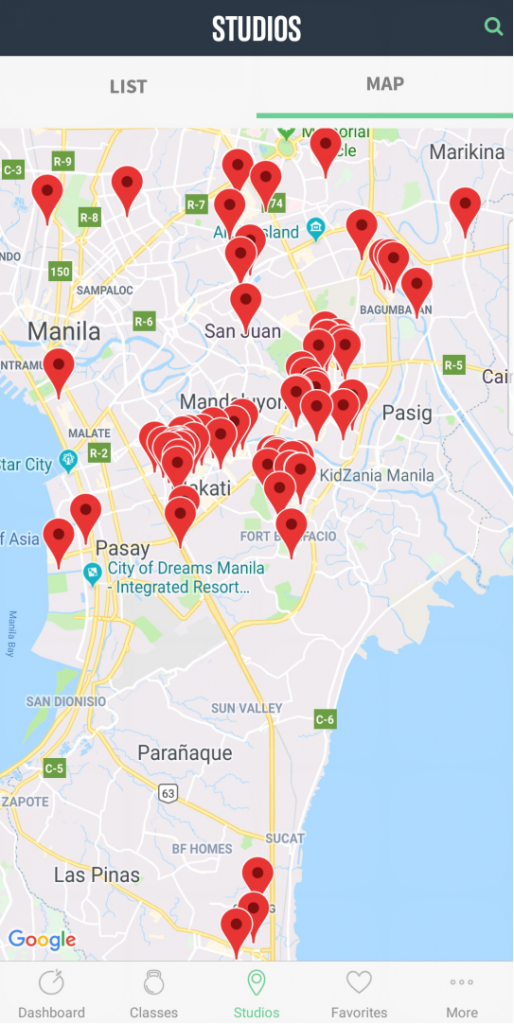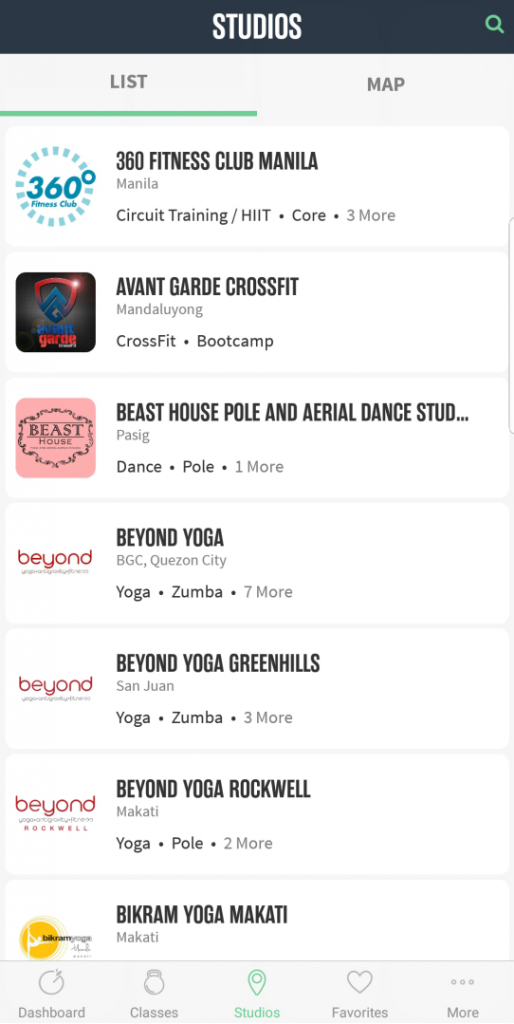 There already are hundreds of partner studios not only in Metro Manila but in several major cities all over the Philippines. You can check them out using the map in the app or via list view (arranged alphabetically). There are same-brand studios that are listed separately by branch. But there are also different branches under only one brand listing. Because of this, it's best to browse by activity and check out the studios offering your preferred activity.
Guavapass' List of Activities Membership Packages
If you're not fond of being locked into a year-long contract, Guavapass' membership packages offer you more flexibility. You can try out different activities in different studios with the 4 or 8-class package. This is very useful when you're staying in an area for a short period of time or if you're trying to pick up something new.
When you finally have picked out a few good studios and some favorite activities, you can then get a 3-month package and schedule a rotation among the studios. This will keep your workout calendar interesting because there's always a chance of including something new. 3-month prepaid packages also give the best value for money. It only comes down to around Php1,667 per month!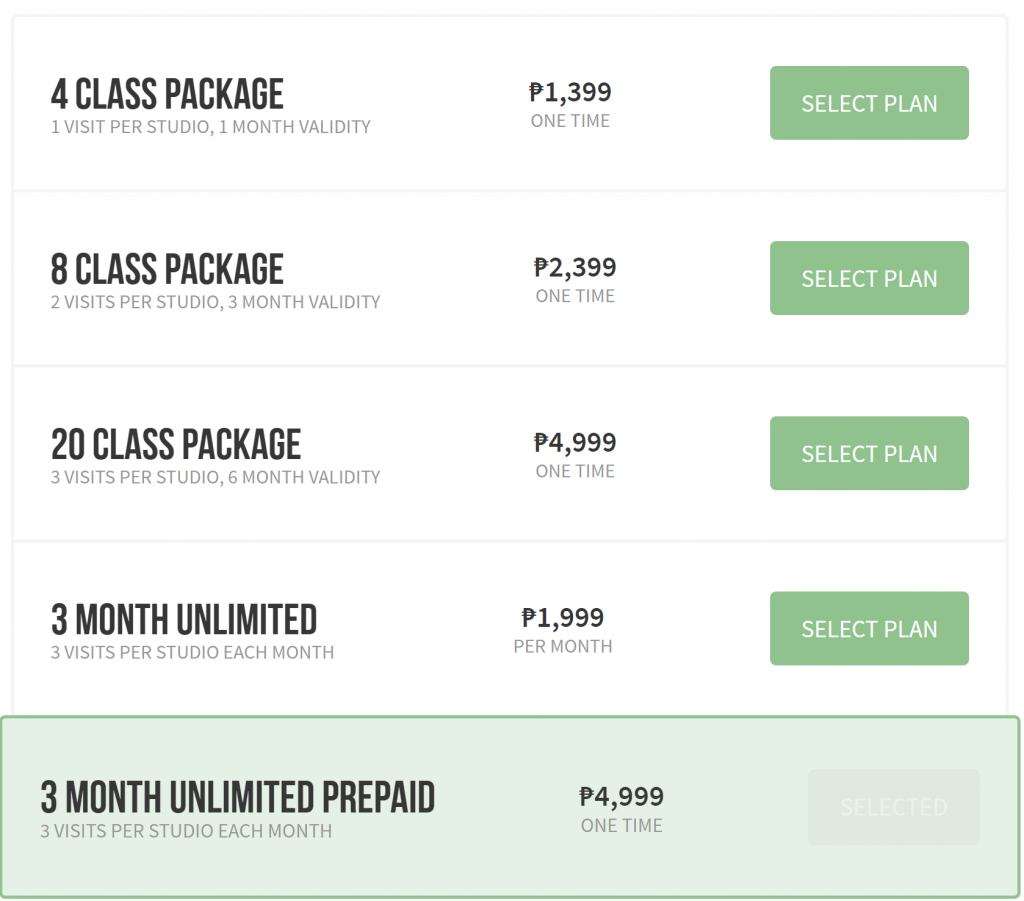 How to Book a Class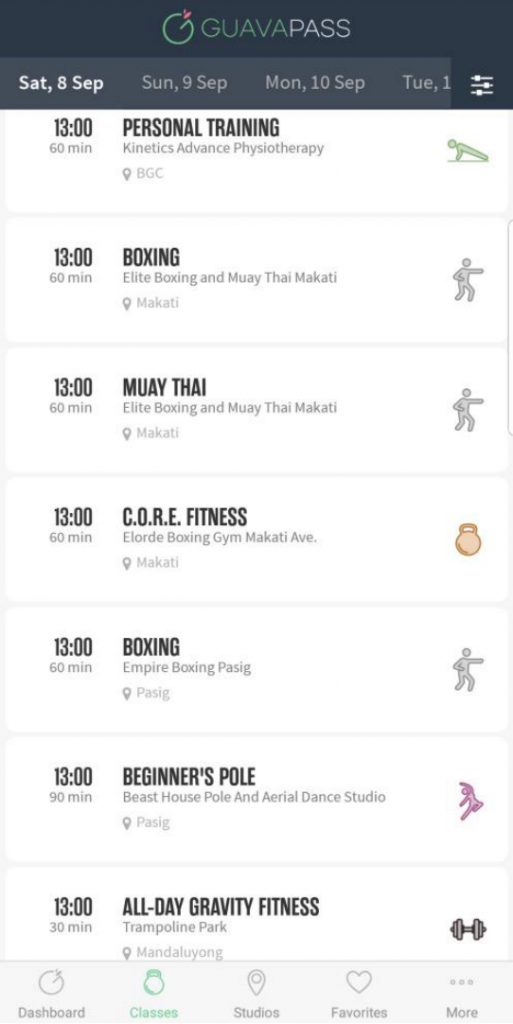 You can filter the results by activity, by date, by time, by area, or by studio by pressing the filter menu on the upper right corner or by selecting one of the "discover" activities in the homepage.
Once you select a specific class, you'll see a "Book Class" button. Press that. A confirmation email will be sent. You'll also get a reminder email an hour before your class. You can also add the class to your phone's calendar by clicking "Add to Calendar" and set your own alarms or reminders.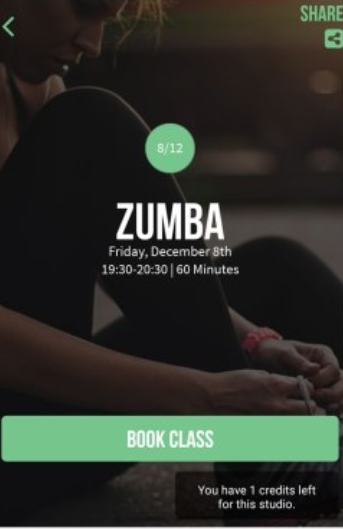 You'll see how many more classes you can book (called "credits") with the studio. Usually, you'll have 2 or 3 credits per studio per month. You can book a maximum of four (4) classes in advance.
If you want to cancel a class, you need to do it in advance, or else you'll have to pay for a late cancellation fee. Depending on the studio, it can be 12 hours to 6 hours before the class.
All your booked classes will appear on your app dashboard with booking codes like below. All you have to do now is go to the studio at least 15 minutes before the official class time to log your name and get changed. No need to show them your phone – everything's recorded in the studio's computers.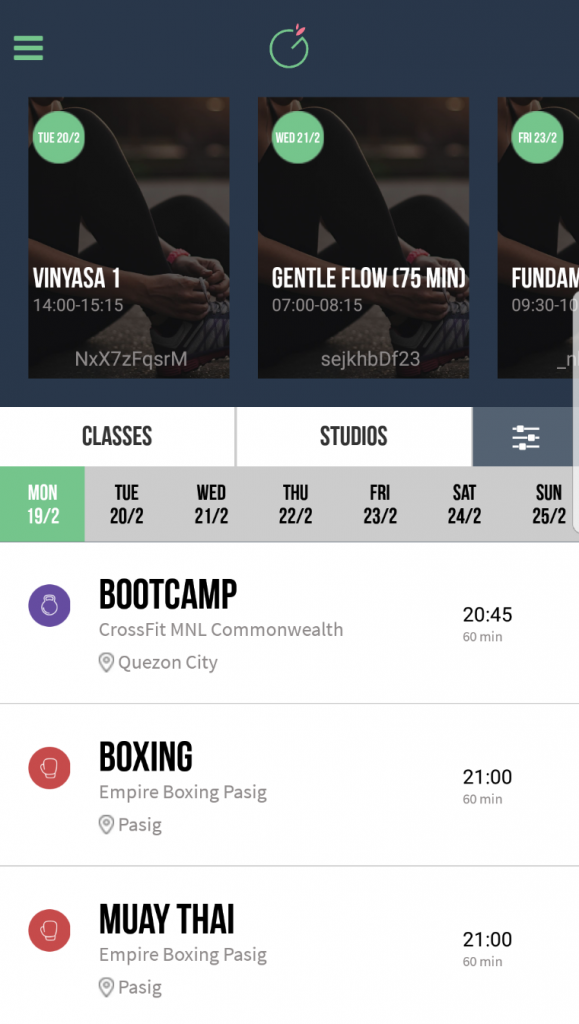 If you're running late, you have about 10-15 minutes allowance after class starts to get there. Any more than that and the studio will mark you as a no-show, which will earn you a penalty. Some studios will allow you to still join the class, but others wouldn't.
KFit is also established by a Singapore-based company that has partner studios in Singapore, Kuala Lumpur, Manila, and Hong Kong.
Similar to Guavapass, KFit offers bookable classes in their partner studios. What sets them apart from their competitor though is how they also offer wellness sessions like spa treatments, massages, and hair and makeup sessions. If you're into both beauty and fitness, KFit will better cater to your needs.
KFit Partner Studios in the Philippines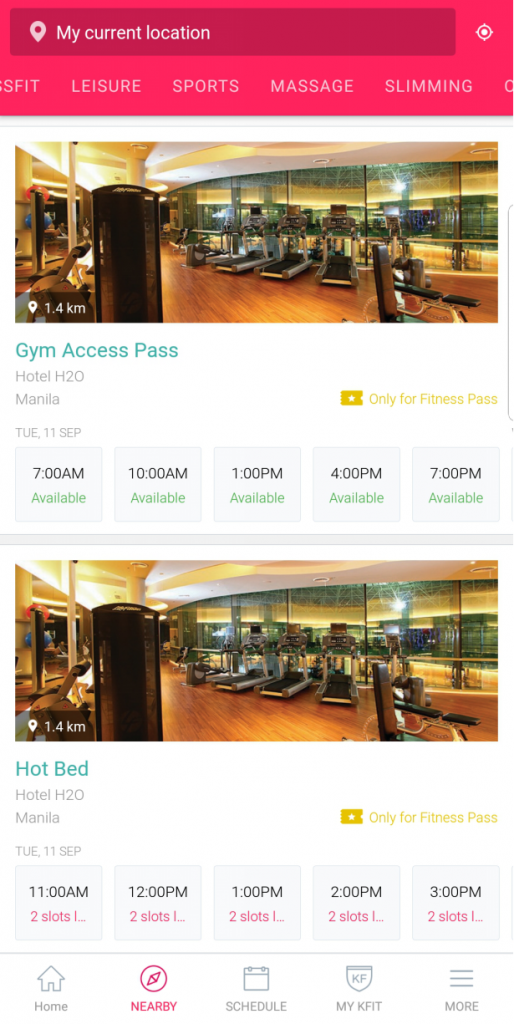 Compared to Guavapass, KFit has fewer partner studios when it comes to workouts, but you'll also find ones that are partnered with both.
KFit bases its studio and activity recommendation based on proximity to your current location instead of a map overview. You can search for other areas using the search bar on top. The available times for that particular activity and the remaining slots are all instantly visible. Click one to head to the booking page.
Nearby studio recommendations are also segregated by activity. You'll find that some activities, particularly beauty offerings, may remain empty.
KFit List of Activities and Services

Membership Packages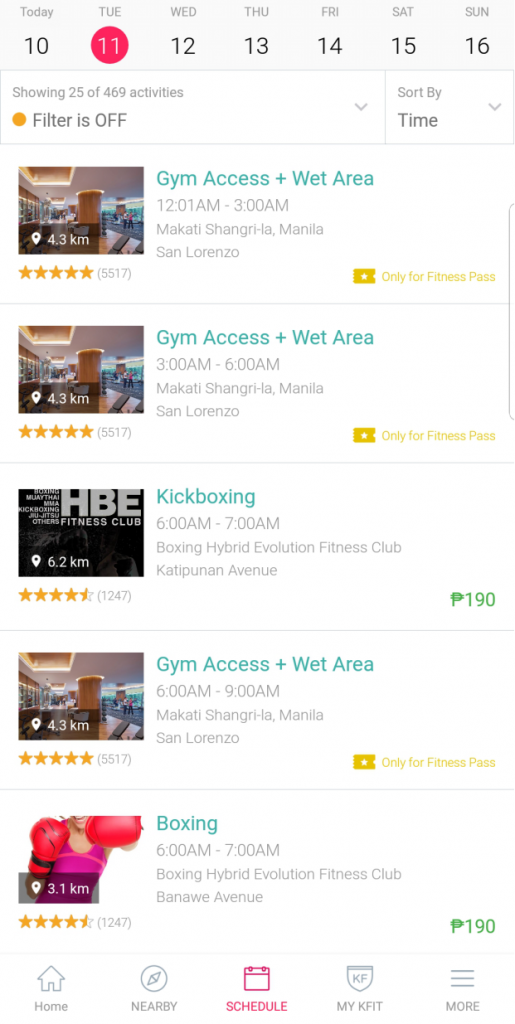 Per Class Payment
KFit takes payment flexibility further by offering per class payments. You'll find that these are discounted prices as well compared to booking directly with some of the studios.
If you're more budget-conscious, this could be the more affordable option. Let's say you want to do boxing. The cheapest Guavapass membership is Php1,399 for 4 classes good for a month. With KFit, you'd be able to attend 7 boxing classes at that price!
However, there are some studios that are only bookable by those who've subscribed to the KFit Pass.
KFit Pass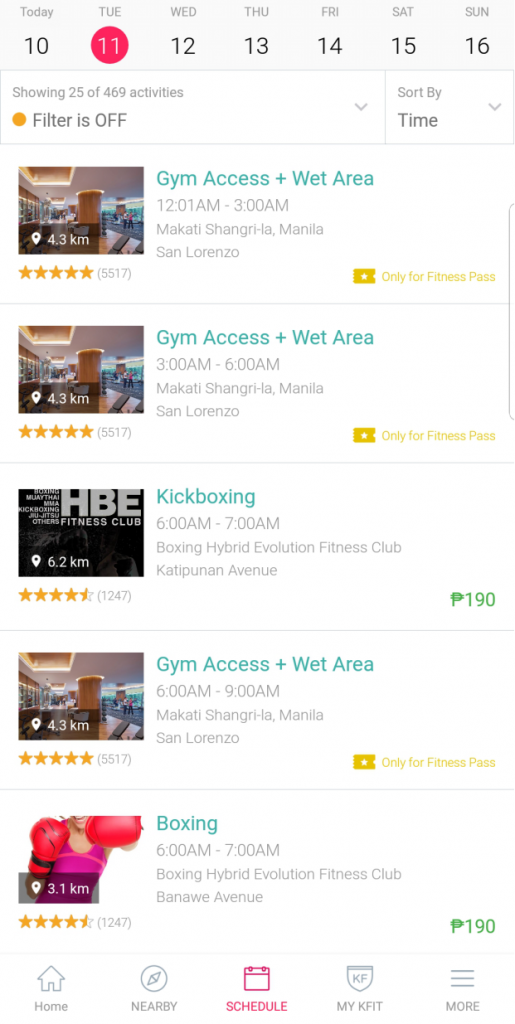 The KFit Pass allows you to go on 10 fitness classes each month, with a limit of 2 to 3 visits per studio. This will give you access to all the activity offerings. When you consume all 10 activities, you're still free to book new classes using the pay-per-class method.
The KFit pass auto-renews on the same day that you bought it each month. For example, if you purchased the KFit pass on September 10th, it will auto-renew on October 10th. So if you want to cancel, make sure you do so before the renewal date!
Also, note that the KFit pass only covers fitness activities. Beauty and wellness sessions like spa treatments and massages are only available as pay-per-session.
How to Book a Fitness Class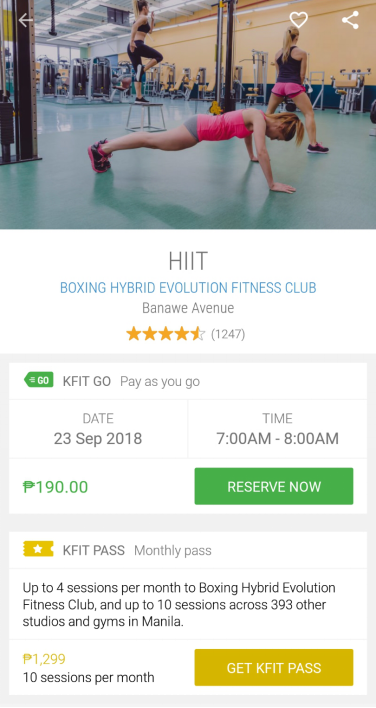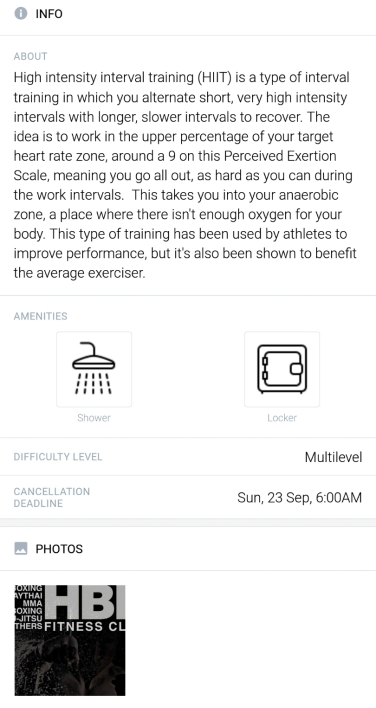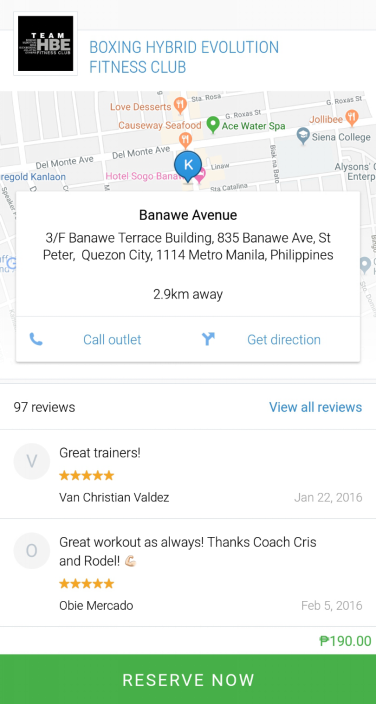 Choose an activity and a time. Simply click "Reserve Now" to book your slot. You will be asked for your credit card details, but payment will be deducted after the class ends. If you need to cancel, do so a few hours ahead. There's also a no-show fee – your card will be automatically charged after the session ends.
If you're subscribed to KFit pass, booking a class will simply deduct from your overall 10-class allowance, unless you've consumed all of it, then your credit card will be charged per additional class.
What's cool about KFit is the comment section below where you can get a better idea of how the class is. You can also leave your own comments and ratings to help other users pick the best classes for them.
The Good
These two apps are revolutionary in the way that they help small studios reach a wider audience. Most of the time, small indie studios have a hard time reaching even those within their neighborhood. This way, both customers and studios can find each other easily.
These apps also let you try out other kinds of sports or workouts, which can connect you with like-minded individuals. At least for Guavapass, it connects people as a community with a common goal: fitness. They sometimes issue challenges that give out discounted class packages as a prize.
It might seem like a con, but the penalty is actually a very strong motivator. Sometimes, with a gym membership, you kind of let days pass without a visit thinking you can just go attend that class anytime. After your card is charged at the beginning of the month, you really don't have to commit to attending anything (unless you avail of a personal trainer). You don't have to put down your name for classes.
With the penalty structure of these apps, you'll really have to push the laziness away because you'll have to pay a penalty on top of your package. There's more sense of commitment by having to book a class, your name put down for a slot. Having the penalty charge only a couple hours after you miss a class will really make you feel the pain of wasted money. So you'll be more motivated to go next time.
Overall, Guavapass and KFit are great if you travel a lot or don't want to be stuck in a workout rut.
The Bad
Of course, there are also some downsides to this membership format.
Since these apps are mere "partners" with the studios, they have no control at all over the quality of facilities, equipment, and services offered. You'll encounter high-end studios, but you'll also end up in not-so-awesome facilities with no shower room and such.
Also, although the penalty is a good motivator, it can also be a hassle in emergency situations. Should you have to cancel less than 6 hours before the class due to car trouble or an injury or something else, you'd still have to pay for it.
You'll also be forced to explore beyond nearby areas. If you liked a specific studio or gym, you only have a max of 3 visits (sometimes 2 for KFit) per studio per month. So you have to go and look for other places, which can result in more travel expenses. And although there are hundreds of partner studios between these two apps, there's still not enough choices outside of Metro Manila.
The Verdict
These apps work well if you're trying to find your "home gym" or "home studio". It allows you to explore endless spaces. If you like variety and don't mind going around a lot, you'll find yourself loving this system. It's also a good chance to get to know more people if you're on the sociable side.
But if you're more a creature of habit, wanting more regularity with your workouts and where you do them, you'll find the session limits a bit constricting. They're still worth a shot though, just to keep your workouts interesting.
---